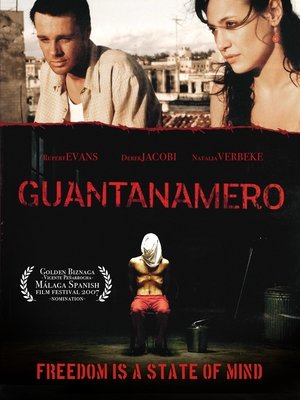 Guantanamero
1 Views
After a violent storm, Ali awakens on a deserted beach, sick and disoriented. They'll be looking for him and he must keep moving. Ivan, a local Cuban, takes Ali to the apartment of his sister Manuela, a dancer in Havana. At first, she is apprehensive to take in this tormented stranger, but she relents as she feels drawn to this mysterious person who has shown up on her door step. Ali is haunted by nightmares, which bring him to the horror of the interrogation room at Guantanamo, and by startling visions linking his past and his present life. But are these nightmares flash backs to his experiences in the prison or just dreams of a tortured soul?
Genre: Fantasy, Drama, Mystery
Stars: Rupert Evans, Natalia Verbeke, Derek Jacobi
Crew: Paco Delgado (Costume Design), Kiko de la Rica (Director of Photography), Michael Bradsell (Editor), Gillian Hawser (Casting), Iker Monfort (Producer), Sam Sneade (Editor)
Country: United Kingdom, Spain
Language: English, العربية, Español
Studio: NDF International, Montfort Producciones, Arritmia Ltd.
Runtime: 89 minutes
Quality: HD
Released: Nov 23, 2007
IMDb: 6
Keywords: